The Nowotny brothers company was founded in 1881 and is still a successful, owner-managed family business - currently managed in the 4th and 5th generation by Friedrich Ruesch, master goldsmith, and Mag (FH) Cornelia Gruber-Ruesch, GIA Diamonds Graduate. As Austria's leading wedding ring producer, we are proud to be able to supply specialist retailers under the Collection Ruesch brand name, even beyond Europe's borders.
At the company location in Vienna, wedding rings and partner rings are made of high-quality gold and platinum alloys. In conjunction with new technologies, designers and goldsmiths create more than 100 new wedding ring models every year in perfect design, in keeping with the spirit of the times. All rings are subjected to the strictest quality criteria and are stamped with our company logo on the inside of the ring. Due to the uniqueness of our models, we apply for design protection for them. We always focus on the customer's wishes, which is why we also produce a large number of very individual ring creations.
Be inspired by our collections and immerse yourself in our unique world of wedding rings!
MANUFACTURE OF ALLOYS AND BLANKS
At the beginning there are the precious metals platinum, gold, silver, palladium and copper in their purest form. The components required for production are weighed out in an exact mixing ratio using a precision scale and melted in a modern induction system to form homogeneous alloys in the form of continuously cast sheets.
These sheets are then formed into perfect, seamless wedding ring blanks in precisely coordinated work processes. These are then the starting point for the next work steps.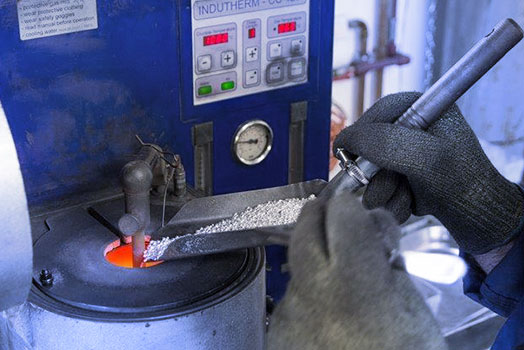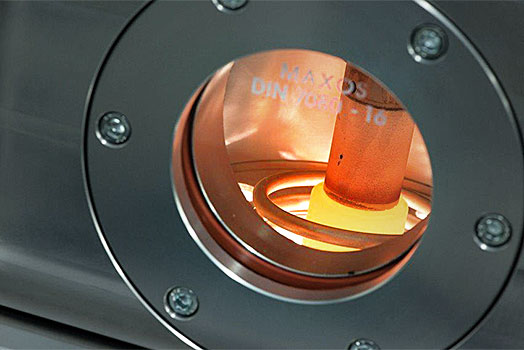 MULTICOLOR WEDDING RINGS
Many models of the "Collection Ruesch" consist of two or more colored rings or different alloys. In order to connect them permanently and inseparably, the rings are sintered in special systems under vacuum. With this technology, the individual parts are not just simply soldered, but connected to one another in a complex process without any joints or pores, so that they can be further processed as a homogeneous material.
For special models, soldering the ring parts is still the best way to permanently connect the two parts. Here the skills of our excellent goldsmiths are the prerequisite for perfect work.
TURNING AND MILLING
In this work step, the almost finished ring with the perfect dimensions is created from the initially inconspicuous wedding ring blank. The outer and inner radii are manufactured according to the individual specifications of our customers in a series of operations using CNC-controlled precision lathes. Among other things, the settings for the stones are already prepared and waves or lines are milled.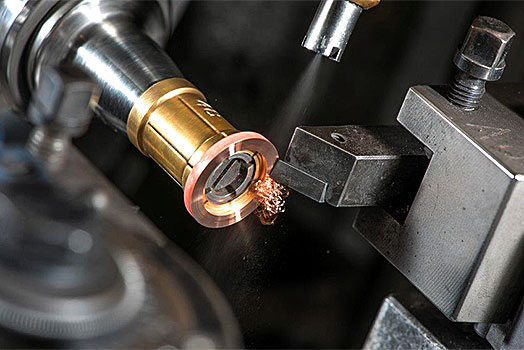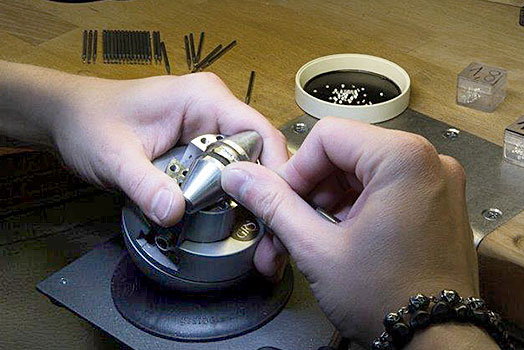 SETTING THE DIAMONDS
The diamonds we use come exclusively from conflict-free sources.
Before setting, the stones are weighed and the quality is checked by our experts. Our excellently trained jewel setters set the stones in the respective wedding rings by hand.
POLISH AND ENGRAVE
After setting, the rings are finished. Here they are brought to a high gloss inside and outside by trained specialists using several grinding and polishing processes and the final surface is designed.
As a next step, our rings are not only provided with our company logo and the fineness, but also get their engraving. This is as individual as the bridal couple themselves. From date engraving to personal handwriting to special symbols of love or the unmistakable fingerprint, almost anything is possible.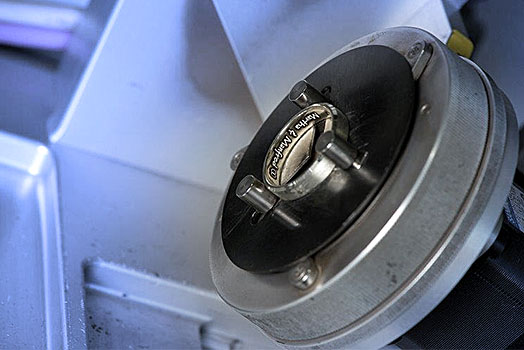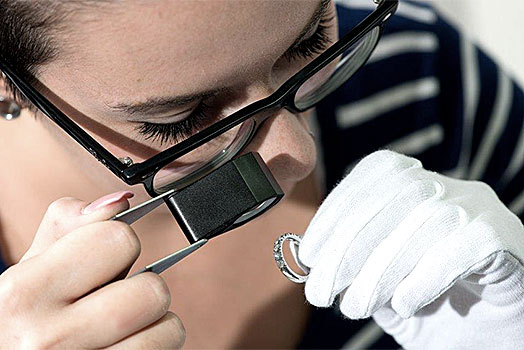 FINAL CHECK
As a final step, all of our rings go through the final inspection. Strict eyes check all the details again. For example, ring size, width, height, number of stones, engraving, etc. are precisely checked. After a positive test, we issue a certificate. This gives you the security of holding an original from the "Collection Ruesch" in your hands.
Our internationally protected logo is a goldsmith's hammer embedded in an oval.
This is how you can immediately recognize an original product from our company! Every pair of wedding rings from the "Ruesch Collection" is an individual masterpiece thanks to the perfect interaction of the most diverse experts and masters of their trade: jewelery designers, gold and platinum smiths, technicians, jewel setters and the employees in the cutting shop. They all want only one thing: to create individual and unmistakable wedding rings that touch and inspire the loving couple.